Sarcoptic Mange


Pruritic DermatosIs are a frequent reason for consultations. While investigating the allergy, Parasitic Dermatosis such as scabies should be taken into consideration.
Sarcoptes Scabiei
Sarcoptes Scabiei is responsible for Sarcoptic Mange for many mammals, and a recrudescence of this parasite has been observed over the past few years. Transmission to humans is also possible.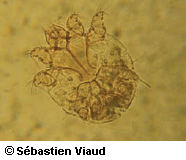 Diagnosis
An intense pruritus should be searched and the confirmation of dust mites in a skin scraping is desirable.
The presence of sarcoptes is often limited, a negative skin scraping should not exclude scabies.
At this moment, it is relevant to complete the diagnostic with a serological test.
---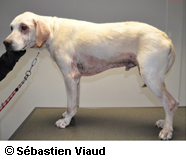 Sarcoptes Scabiei Serology
The Sarcoptes test performed is an enzymimmunoassay (Elisa). It detects IgG antibodies
against Sarcoptes scabiei var. canis, the pathogen of the sarcoptic mange, in dog serum samples.
The sensitivity and specificity of this test was evaluated on 113 dogs with clinically confirmed cases of Sarcoptic Mange or scabies free animals. These tests have shown that the sensitivity and specificity were 92,1% and 94,6% respectively.
An increase of IgG antibodies is detectable 3 weeks after the infestation.
As for our Serology Allergens, results are presented as a colour chart.